Smart city
Safer and more efficient cargo handling
VOCA AS has applied artificial intelligence (AI) and artificial vision to developing unique solutions for safer and more efficient cargo handling and logistics.
Based in the south Norwegian port of Kristiansand, this company utilises AI technology to develop tools for digitalisation, assisted remote control and automation. Its main products are designed for the offshore sector, including ports and terminals, and it has worked on cargo handling, lifting and logistics for petroleum-related applications since 2009.
Concentrating on areas with little innovation
During the Covid-19 pandemic, VOCA carried out an assessment of its strategy to identify other markets which the technology it had developed was transferrable to.
The company had already come up with solutions for cranes used at oil bases, so it was natural to take a closer look at other areas with high volumes and a growing need to enhance logistical and cargo-handling efficiency.
Ports and terminals were thereby an obvious choice, and VOCA looked for areas where the least innovation has taken place. Reach stackers for handling containers at small and medium-sized ports were considered to have a big potential in volume terms.
Technological development for this type of vehicle has historically lagged somewhat behind other port machinery – partly because it is complicated to automate, and because the ports using it have had smaller budgets for such advances than the big players.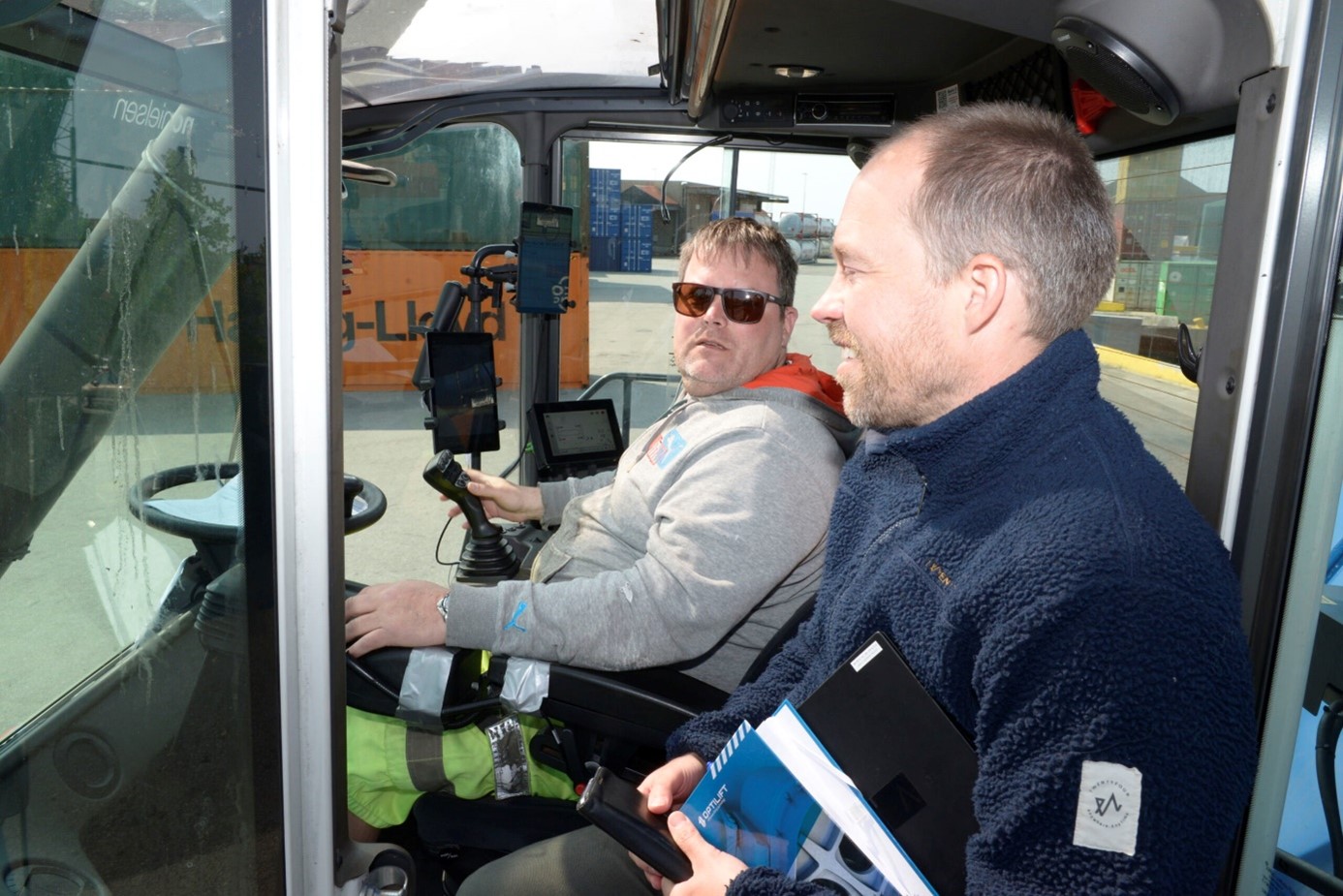 André Haddeland (left) at Seafront Logistics manoeuvres the reach stacker equipped with Optilift's sensor-based camera system, while Arild Finne from Optilift looks on.
Saves time and reduces risk
The solution for automatically identifying containers to be moved by a reach stacker, and where they are fetched from and placed, offers several benefits to the end-user – in other words, the port operator.
These include less touching on the screen for the stacker driver, not only saving time but also reducing risk if the screen is touched while the machine is being driven (silent nonconformity).
Furthermore, the data can be utilised to build up maps and digital twins of ports and terminals automatically, opening the way to improved control and fewer human errors.
A digital twin also permits the development or roll-out of software systems which can propose optimised positioning and moving jobs. That in turn can reduce wear, maintenance, time taken, energy consumption and time spent at quay for ships.
The VOCA solution is currently installed in two stackers owned by operator Seafront Logistics AS at the Port of Kristiansand. These have just become operational, and the company is optimising them and overcoming some start-up challenges.
In parallel, a digital campaign is being run to identify interest in the market for this solution. That work began in mid-June 2023.
Data generated can also be used for automatic updating of digital twins, which can be then be expanded with automated planning of or proposals for optimising operations. That can in turn reduce kilometres driven, number of container lifts, wear, energy consumption and thereby emissions.
Port activity set to rise
The market is expanding with population growth, and small and medium-sized ports will also experience increased activity if society succeeds in transferring more transport from roads to zero-emission vessels.
Part of the resulting traffic rise is expected in the short-sea shipping segment between small ports, particularly in Scandinavia. Efficient and environment-friendly ports are thereby part of a sustainable logistics and transport solution for society and the world.
Through its Optilift subsidiary, VOCA has been delivering sensor solutions to offshore cranes since 2014 and has good opportunities for sales through its entry into the expanding port market, which has few large players and is highly competitive – but also very conservative.
The company is used to a few large players and long sales processes from the petroleum sector, and expects to benefit from this experience in the port sector. Since the network in ports and terminals is limited, VOCA will market through a combination of digital campaigns, participation in exhibitions and conferences, and face-to-face meetings.
| | |
| --- | --- |
| VOCA AS | |
| Established | Active from 2008 (founded 2006) |
| Employees | 18 |
| Turnover in 2022 (or latest available figures) | NOK 18 million |
| Company switchboard | +47 38 19 83 44 |
| Company e-mail address | |
| Company website | |
| Contact | Torbjørn Engedal |
| Contact's e-mail | |
| Contact's mobile number | +47 986 34 111 |