Smart city
Pandemic inspires new office-booking solution
Logistical tools developed for use in the offshore industry have been repurposed by Norway's Konciv to create a new system for planning workplace use.
The company has specialised in creating tools which simplify logistics and help customers achieve a digital transformation. Based on the offshore industry's supply chain, it has come up with a flexible cloud-based platform which can be tailored functionally for interaction, planning and tracking – so that everyone involved in an operation gets the information they need.
Based at Tananger near Stavanger, Konciv is a subsidiary of the NorSea group and part of a collaboration with Kongsberg Gruppen.
New normal
The office concept emerged as a result of Covid-19, when the outline "new normal" was seen and looks like being here to stay. With some employees in the office and others working from home, the question for employers is how to achieve an overview.
Thanks to the pandemic, companies have learnt that the traditional manual control of work plans and workplaces is not necessarily the most efficient approach. More flexible arrangements function well for many, and that calls for good tools which can ensure adaptable administration.
This prompted Konciv to adapt its logistical system – originally developed to control the flow of goods – into an app which can also be used with people.

Book space
The Konciv Office Booking app lets the user book space in their office in the same way as people secure cinema or plane tickets – and to answer such questions as whether there is room for me tomorrow, where am I going to sit, and what about lunch or an adjustable desk.
In other words, the employee decides for themselves how they want to plan their day in the office with just a few key presses on their mobile. And their manager gets an overview of who is where, allowing them to plan accordingly.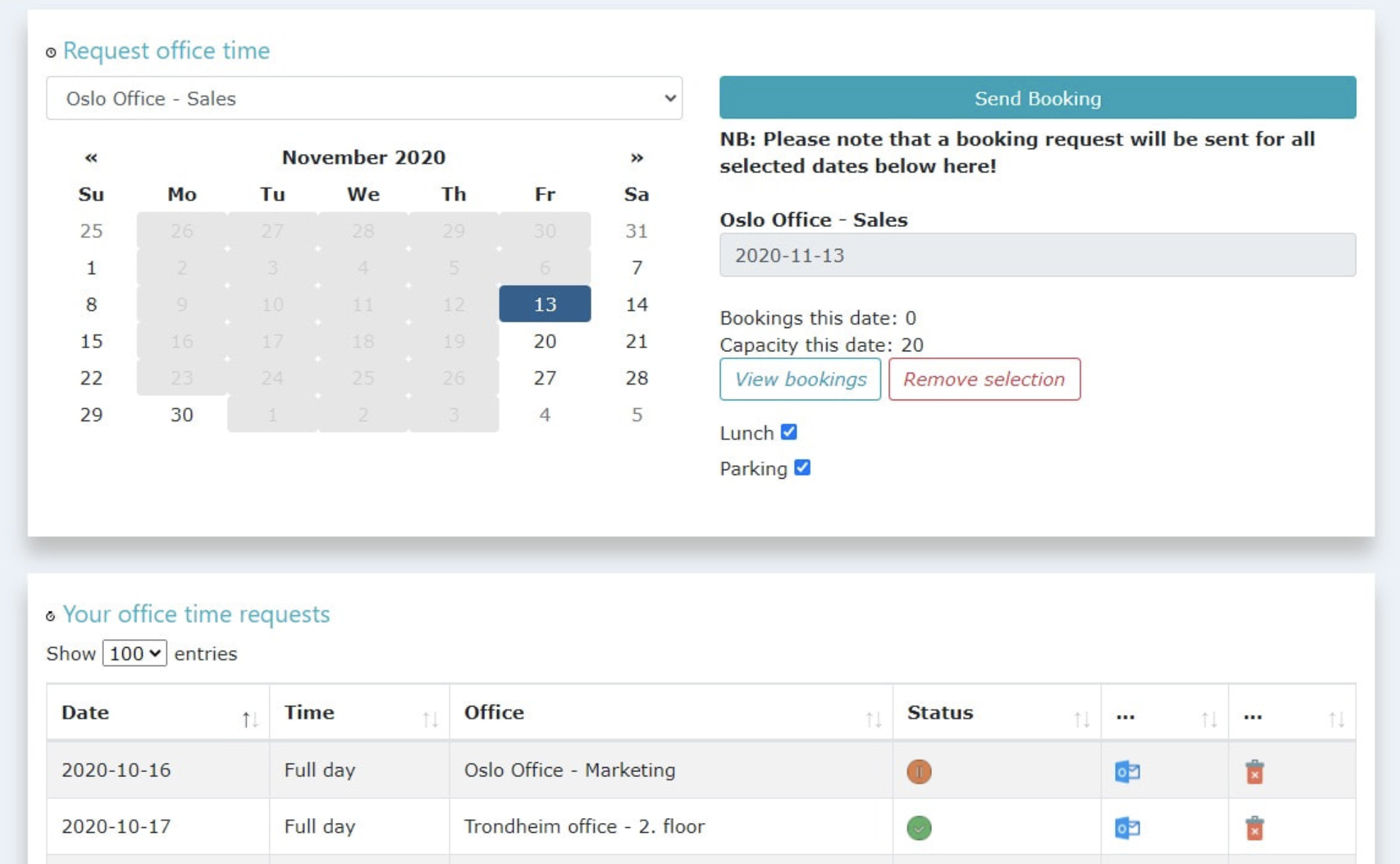 AUTOMATING: Konciv automates the planning of available office places, booking these, and other facility services. Illustration: Konciv
This technology has been well received in the market, with Konciv already securing many large new customers for its innovative solution. They vary from banks and financial institutions to technology companies and public-sector enterprises.
Benefits for both sides
The app provides benefits for both employee and employer. Making office spaces available more flexibly means a simpler working day for the individual staffer and for their manager.
In turn, the company can increase productivity, save time and cut administrative costs and manual working, as well as planning and optimising the allocation of space and the positioning of offices.
Being able to offer employees greater flexibility in relation to their workplace also offers additional value.
Growth market
Konciv's solution can be used by everyone from small and medium-sized enterprises (SMEs) to big groups. The company believes this is a growth market as a result of new requirements which have emerged from the coronavirus pandemic and of the evidence that working from home functions.
While it is rather early to put figures on the number of companies which will convert to flexible office solutions, the number of customers already built up by Konciv in a short space of time indicates an expanding market.
The solution is standardised, so it takes little time to get started and requires few Konciv resources. In that way, the app can quickly be scaled up, and it has already been adopted in such countries outside Norway as the USA and Poland.
| | |
| --- | --- |
| Name: | Konciv |
| Established | 2017 |
| Employees | 12 |
| Turnover in 2019 | NOK 2.1 million |
| Phone number | |
| E-mail | |
| Website | Konciv.com |
| Contact | Henrik Heggland |
| Contact e-mail | |
| Contact mobile | +47 415 34 054 |