Renewable energy
Moorings for floating wind turbines
MacGregor Norway AS delivers anchoring solutions for floating petroleum facilities. It now sees opportunities in the sharply expanding market for offshore wind power.
This company, previously known as Aker Pusnes AS, is a world leader in the development, design and delivery of deck machinery and mooring systems for ships and offshore installations.
Equinor contacted it over the Hywind Scotland project, which involved scaling up a pilot based on a single turbine to a five-unit floating wind farm. The oil company faced a number of challenges related to the mooring system, and wanted to utilise MacGregor's experience in overcoming these.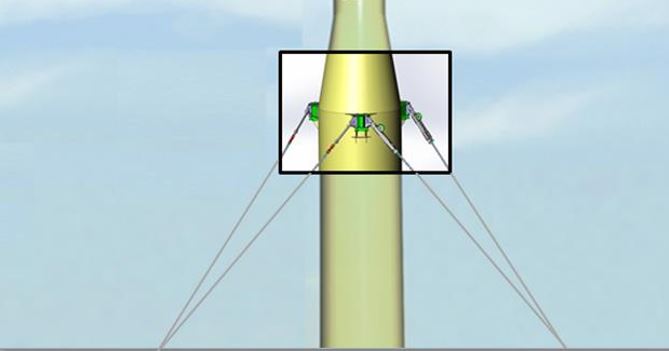 ANCHORING: MacGregor has devoted much energy to continued development of the concept and technology delivered to Hywind Scotland.
Cost-cutting important
The solution was to produce the simplest possible system for tackling a relatively complex job, where the challenge differed somewhat from traditional petroleum floaters. While the dimensions are rather smaller, the number of anchor lines is larger. Great efforts have also been made to minimise the levelised cost of energy.
No winches or other pull-in equipment are placed on the actual floater, for example, with the anchor cables being installed and tensioned via external vessels. That saves considerable weight and cost on the facility.
Hywind Scotland has been recognised as the first large floating wind farm. But the market has made it clear that the project contains a number of solutions which are still at the top end in terms of cost.
MacGregor has devoted much energy to continued development of the concept and technology delivered to Hywind Scotland. Attention has concentrated primarily on further simplifications in order to cut costs. The company's approach has been to look at an overall solution to reduce spending on the actual equipment, while cutting installation expenditure through the use of simple and intelligent technology.
Strong market growth
All market analyses point to a strongly growing market for floating wind power. The fundamentals are in place with the Paris agreement, which aims to achieve a significant reduction in greenhouse gas emissions.
MacGregor has good relations with a number of key companies involved in this development – including Equinor – and is working closely with the market to drive mooring system costs even further down, since they represent one of the most important expenditures in a floating wind power project.
MacGregor is a leader in sustainable maritime cargo and load handling with a strong portfolio of products, services and solutions, all designed to perform with the sea.
Shipbuilders, shipowners and operators are able to optimise the lifetime profitability, safety, reliability and environmental sustainability of their operations by working in close cooperation with MacGregor. www.macgregor.com
MacGregor is part of Cargotec. Cargotec's (Nasdaq Helsinki: CGCBV) sales in 2020 totalled approximately EUR 3.3 billion and it employs around 11,500 people worldwide. www.cargotec.com
| | |
| --- | --- |
| MacGregor Norway | |
| Established: | 1977 (1875) |
| | |
| | |
| Phone: | +47 37 08 73 00 |
| E-mail: | |
| Website: | |
| Contact: | Tor Eide |
| Contact e-mail: | tor.eide@macgregor.com |
| Contact mobile: | +47 930 11 613 |