Renewable energy
Cost-effective supports for offshore wind turbines
Wind turbine foundations can be installed at sea faster more cheaply and more safely with the solution Imenco has developed through its involvement in the oil and gas industry.
The group supplies engineering services and solutions/products to ocean industries – oil and gas, wind power, aquaculture and marine activities.
Imenco's main activities were rooted in offshore petroleum operations, and it used to have a clear strategy of concentrating on this sector.
But the global downturn in the oil and gas business prompted it to expand its range. Two areas were identified: fish farming and renewable energy, particularly wind power at sea.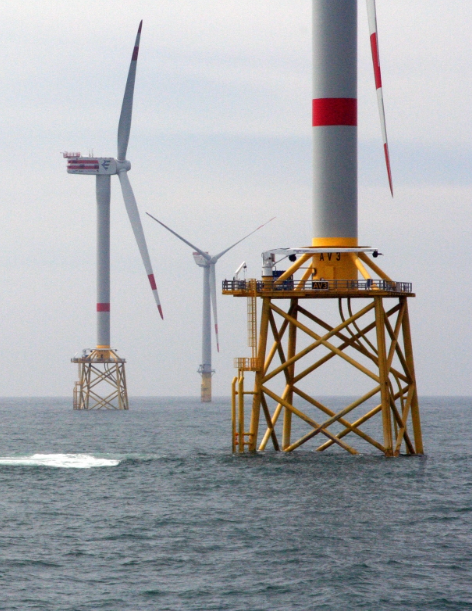 The company's entry to these markets was based on its existing technology and products. But these had to be adapted and further developed to match new customers expectations and requirements.
From niche to important energy source
Offshore wind power has moved over the past decade from a niche activity to an important resource which meets the energy requirements of millions of European homes.
Generating costs for this sector have fallen dramatically, fuelling rapid market expansion – mainly in Europe. Strong growth is also expected in a number of Asian countries and the USA.
Since its first delivery in 2016, Imenco has succeeded in winning contracts for 15 large offshore wind power projects in the UK, Germany, Belgium, the Netherlands, Denmark and Taiwan.
These deliveries have related to:
— a solution for installing cathodic protection on monopile foundations offshore using remotely operated vehicles (ROVs)
— an installation solution for jacket foundations
— a helicopter fuelling system.
Protecting monopiles
The dominant type of foundation for offshore wind turbines is a monopile driven deep into the seabed, which then has to be fitted with sacrificial anodes for cathodic protection.
Large anode banks (cages) must lifted into place and connected electrically to the piles once these have been driven. This work involves big installations and operational constraints.
A technical solution already tested by Imenco in the petroleum sector allowed the company to develop a method for ROV installation of anode cages.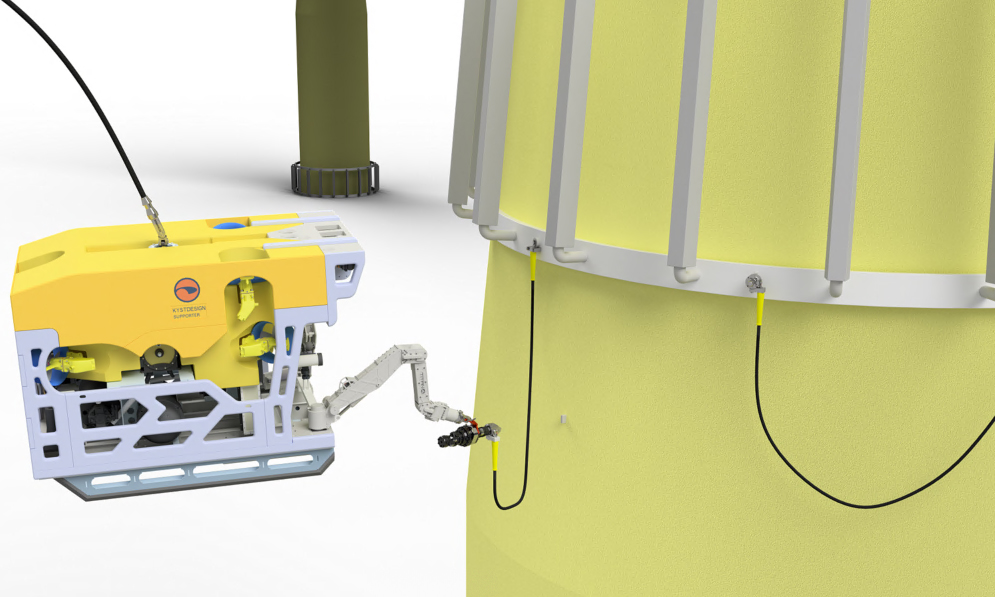 — Since the first delivery in 2016, the solution has been sold to 13 projects involving more than 500 offshore turbine foundations. This has become a clear leader internationally by offering several advantages – ROV installation eliminates potentially hazardous diving work.
— Installation is very quick and provides an excellent electrical connection.
— The mechanically strong connection is able to withstand tidal and wave forces.
Installing support foundations
Although monopiles dominate, soil conditions, water depths and supply chain limitations may prompt developers to choose another approach – typically a jacket.
The latter is installed on piles driven into the seabed and extending up the lower section of the legs. A special concrete grout injected into the annular space between pile and leg locks them permanently together.
Imenco has developed and successfully sold a clamping solution to simplify installation of the jacket foundation. This is installed on all the legs.
Reducing cost and risk
The solution provides a substantial reduction in cost and risk compared with "conventional" technologies, since grouting can be left until later and the weather window required for installation is reduced from days to hours.
An installer only has to use an expensive and heavy-duty crane vessel for lifting, while far more time-consuming work such as grouting can be done from another and much cheaper support ship.
Big market potential seen
Offshore wind power has seen exponentially rapid growth over the past decade, with about 20 gigawatts of capacity currently installed and other five GW under construction.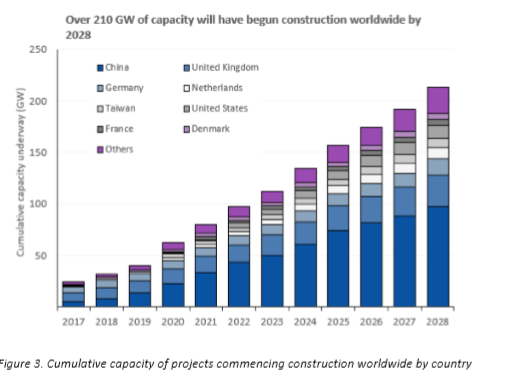 Market analysts (see 4C Offshore) indicate an annual growth of 23 per cent over the coming 10 years, which would lead to a global capacity of about 210 GW by 2028.
This expansion will fuel a demand for roughly 2 000 monopile and 1 000 jacket structures. Imenco is well positioned to win contracts, depending on the type of support structure chosen.
| | |
| --- | --- |
| Imenco | |
| Established: | 1979 |
| Employees: | 200 |
| Turnover 2019: | NOK 400 million |
| Phone: | +47 52 86 41 00 |
| E-mail: | |
| Website: | |
| Contact: | Geir Egil Østebøvik |
| Contact e-mail: | |
| Contact mobile: | +47 913 02 151 |