Health and medicine
Turning diver technology to treating stroke patients
Solutions developed for diving are being applied by NUI AS to help post-stroke rehabilitation, cancer patients and people with damage to tissues and the central nervous system.
Short for Norwegian Underwater Intervention, NUI is a non-profit association based on the shoreline at Laksevåg in Bergen. It has built up unique expertise, experience and facilities over more than 40 years of involvement with subsea technology for the oil and gas industry.
The association offers the subsea and diving industries a wide variety of products and services, including research and development, emergency hyperbaric response, engineering, pressure testing of machines and equipment, medical assistance, advice and training.
Unique expertise
The idea of applying NUI's technology and skills to the health sector derives from its unique expertise and experience with gas treatment, saturation diving and hyperbaric medicine as well as its pressure-chamber system.
Hyperbaric oxygen (HBO) therapy is an old treatment method with few serious side effects. It involves breathing 100 per cent oxygen in a customised chamber at a pressure corresponding to 14-18 metres beneath the sea.
That produces a dramatic increase in the amount of oxygen available to the body's cells. Among other benefits, this can contribute to repairing damaged tissues and destroying cancerous cells.
TAILORED: The video presents NUI's pressure chamber facility in its mode as a hyperbaric lifeboat reception facility for saturation divers evacuated from the Norwegian continental shelf. Technical adaptations to one of these chambers allow it to be used for HBO therapy while still supporting NUI's function as a centre for hyperbaric lifeboat reception.
In Norway, HBO therapy is provided via Bergen's Haukeland Hospital – but only for a very limited number of diagnoses and patients. With its operational saturation diving system, NUI saw an opportunity for treating patients unable to access therapy from the state health system. Scandinavia had no private HBO provision until NUI launched its service in 2015.
Safe and secure
By utilising its existing pressure-chamber capacity, knowledge and experience, NUI was able to establish a safe and secure HBO therapy service rooted in safety thinking from the offshore sector.
The company can take patients from the whole of Norway and the rest of Scandinavia. Its big capacity eliminates waiting lists, and can be expanded if required by utilising additional pressure chambers. NUI itself says that this would not be possible without its petroleum-related activities.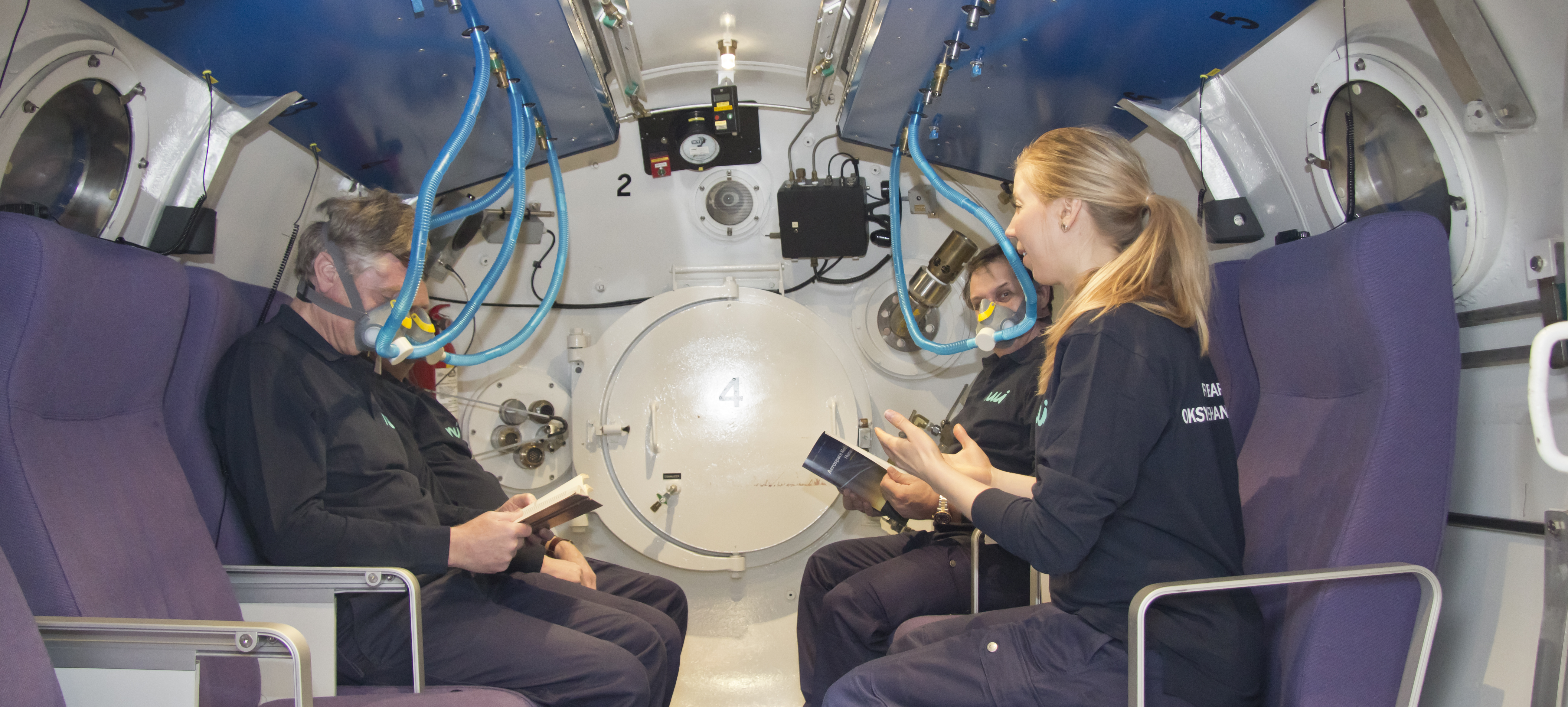 ACCOMPANIED: NUI personnel are always present in the pressure chamber during treatment, in order to guide and monitor the patient. Photo: NUI
Patients are treated for diagnoses recommended by two reference bodies ­– the European Committee for Hyperbaric Medicine (ECHM) and America's Undersea Hyperbaric Medical Society (UHMS). Treatment is also offered for diagnoses which have shown positive results from studies.
Well received
This service has been very well received by its users, and a number of good patient histories can be reported.
The market for such treatment is potentially very large. At any given time, about 45 000 people in Norway are living with chronic post-stroke injuries which might benefit from treatment with HBO therapy.
In addition, more than 30 000 Norwegians develop cancer every year. Patients in this category also appear likely to benefit from the treatment because cancer cells cannot survive high oxygen pressure. And patients with various forms of damage to tissues and the central nervous system often benefit from this therapy.
| | |
| --- | --- |
| Name: | NUI As |
| Established: | 1976 |
| Employees: | 15 |
| Turnover in 2019: | NOK 44 163 373 (2020: 26 259 598) |
| Phone number: | 55 94 28 00 |
| E-mail: | post@nui.no |
| Website: | www.nui.no |
| Contact: | Rolf Røssland |
| Contact e-mail: | rro@nui.no |
| Contact mobile: | + 47 950 59 595 |