Fisheries and aquaculture
Large bore flexible umbilical for aquaculture
Tess has developed solutions, based on own existing technology used in the oil industry, to meet new requirements for exposed fish farms into rougher seas.
The Norwegian company has specialised their business for more than 50 years in supplying hoses to meet every kind of requirement, and ranks today as Norway's major providers of such products for operation and maintenance.
Robust
The aquaculture expansion to more exposed areas mean harsher conditions and calls for robust and smart hose solutions, preferably based on known and tested technology combined with subsea installation.
Submersible solutions are adopted for fish farms in rougher waters, which calls for hoses to survive extreme mechanical loads and operate maintenance-free for up to 20 years.
After developing and delivering umbilicals to the offshore sector for many years, Tess has extended such concepts for new applications at fish farms in exposed areas.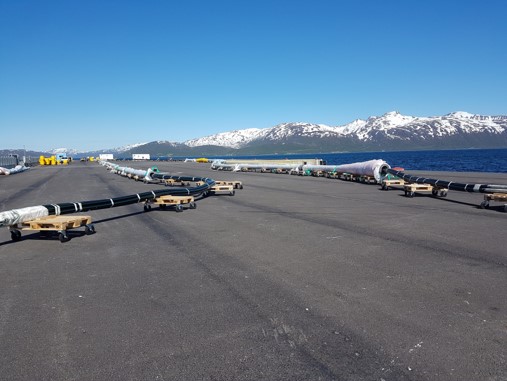 INSTALLATION:Assembling Tess cage hoses on the quay at Grøtsund outside Tromsø.Photo: Tess
Connection
The multiline "Cage-hose" system are a new concept for connecting fish cages with other necessary infrastructure at open-sea and offshore aquaculture installations.
The Tess solution involves combinations of hoses, piping and cables integrated in a compact and robust umbilical. Active use is made of various material technologies to optimise necessary properties for the new cage-hose concept.
Functional elements to ensure stable and predictable operational conditions include robust hoses, integrated stiffeners, moorings and buoyancy elements. These are fundamental for long-term safe operation.
An initial cage-hose installation was assembled by Tess in its mobile quayside facility and delivered to Arctic Offshore Farming in 2020.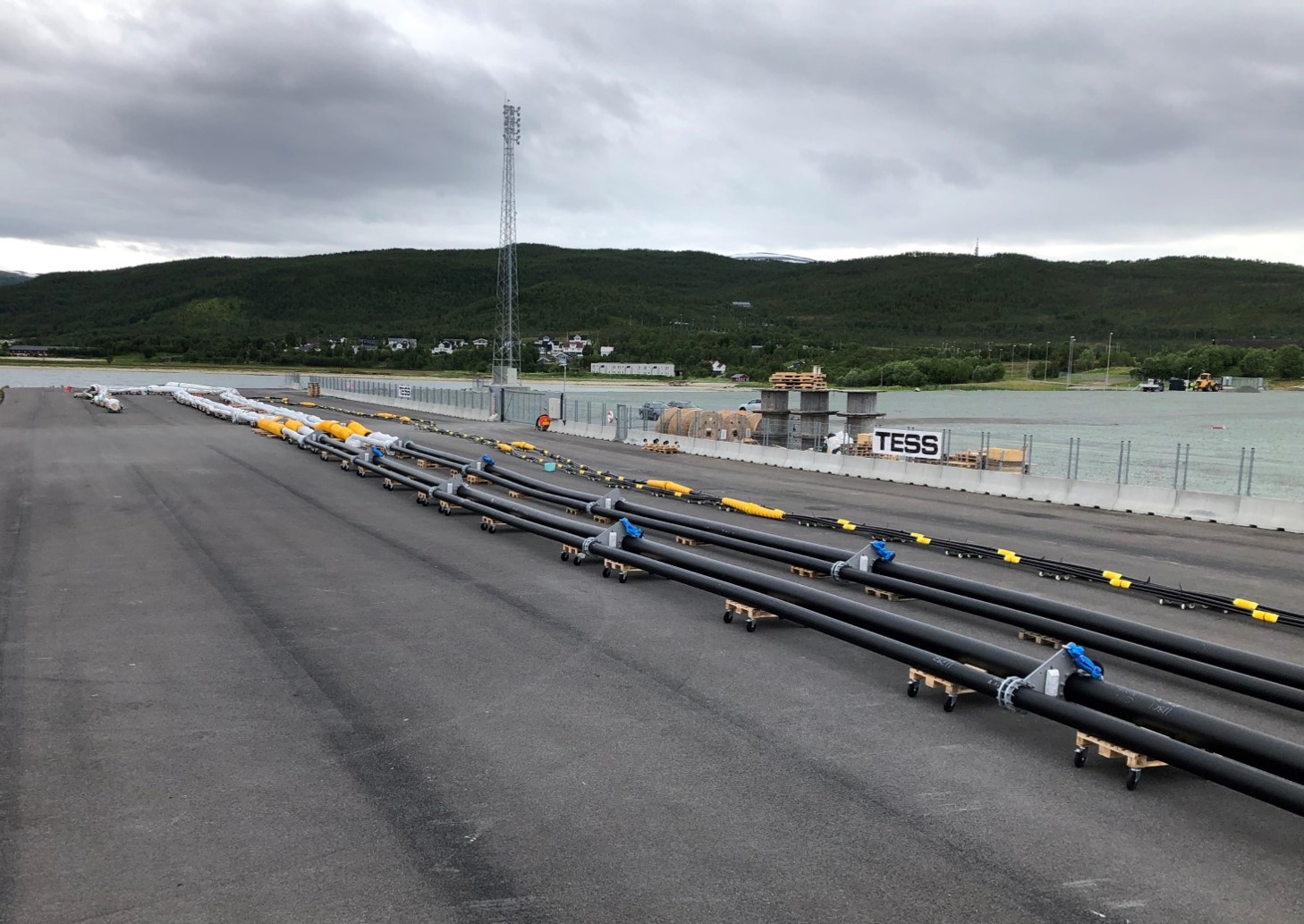 READY FOR TOWING:Tess cage hoses ready to be towed in the sea from Grøtsund outside Tromsø to the fish cages. Photo: Tess
First-ever
Representing the first-ever established solution for providing a subsea connection between fish cages and feed rafts, the cage hoses developed by Tess make it possible to extend aquaculture operations into new sea areas.
Applying the principle of waterborne feed will reduce pellet crushing and hose wear. The concept also includes a complete system for transporting leftovers and dead fish from the cages. Cage hoses make fish farming at sea independent of weather and lay a basis for future unstaffed farms.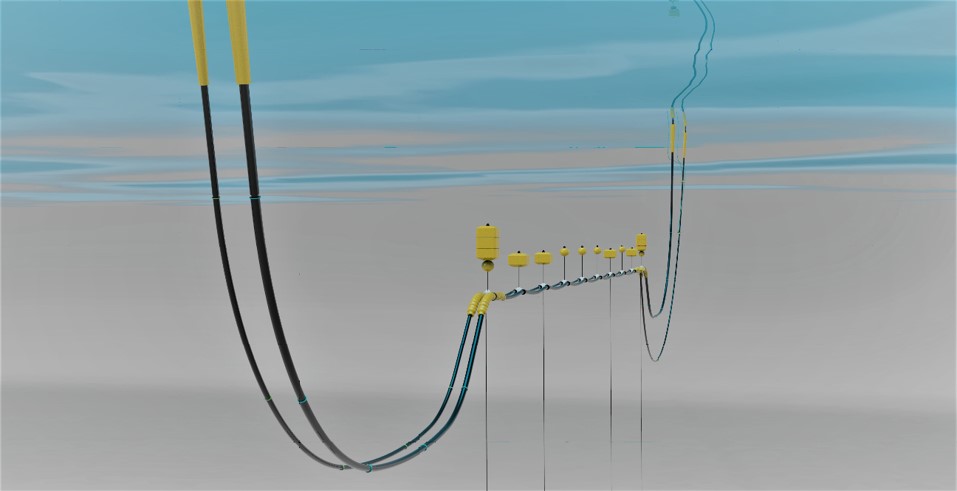 SUBMERGED: Cage hoses from Tess can supply feed, power, fibre and compressed air, and remove leftovers and dead fish. They are around 300 metres long. Illustration: Tess
Ambition
Given the Norwegian government's express ambition to increase output by the country's aquaculture sector fivefold by 2050, innovation and technology are essential – particularly for farms out to sea.
A number of such concepts have been licensed so far and are likely to be realised in the near future. Project-tailored cage hoses offer great flexibility in terms of solutions and variants.
Tess has already developed a number of options, and has the capacity and expertise to accept turnkey responsibility for complex deliveries both in Norway and internationally.
Owned by Norway's Erik Jølberg Foundation, the company has 1 200 employees and 130 local service centres which make it accessible to customers nationwide. It ranks as a mission-critical supplier to the petroleum, construction, aquaculture, industry and public sectors.
| | |
| --- | --- |
| Name | Tess |
| Established | 1968 |
| Employees | 1 200 |
| Turnover 2020 | NOK 3.3 billion |
| Company switchboard | +47 32 84 40 00 |
| Company e-mail | |
| Company website | |
| Contact | Lars-Otto Fredriksen |
| Contact e-mail | |
| Contact mobile | +47 957 67 695 |