Carbon capture and storage
Injecting carbon dioxide directly from ship to reservoir
Nemo Maritime is drawing on experience with offshore loading on oil fields to develop a solution for shipborne transport of liquefied CO2 to be injected directly into a storage formation.
Nemo's newly developed and patented concept utilises more than 40 years of knowledge and experience acquired by the oil and gas industry with loading and transporting crude directly in shuttle tankers on the Norwegian continental shelf (NCS).
The most efficient way of transporting CO2­ by ships is to liquefy it under high pressure. Before injection in the sub-surface, however, it must be heated to match the pressure and temperature in the relevant formation. This is done with a process module and injection pumps on the carrier.
In cooperation with reservoir operators, Nemo will thereby be able to offer a cost-effective solution for transport, injection and storage in the carbon capture and storage (CCS) value chain, without the need for intermediate storage or pipelines. Ships will be able to connect to the subsea installations and operate independently of other infrastructure and water depth.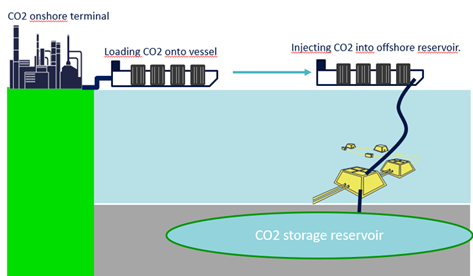 Active marketing to start
The company can also draw on expertise and experience from other CCS projects, such as the government-funded Longship/Northern Lights scheme. Its vessels will use the same pressure regime for shipping liquefied CO2 as the latter project, and the same design standard employed for storage tanks at the Kollsnes gas treatment plant.
Detailed reservoir studies have also been performed to qualify large-scale interval-based injection from ships. A process module to condition CO2 pre-injection has been developed, along with pumps. Nemo is now working to develop and qualify discharge systems adapted for CO2 injection.
Interest in CCS solutions among players is high, and Nemo collaborates over the project with a number of leading companies. These include Worley Origo Process AS, Worley Rosenberg AS, Framo/AlfaLaval, Brevik Engineering AS, OneSubsea-SLB, Norce, OMV and TotalEnergies.
Now that interval-based injection has been qualified and the technical solutions are fully developed, Nemo and its partners are ready to begin active marketing towards relevant specialist teams/companies.
Single transport stage
Nemo's concept means that only a single transport stage is required, unlike the Longship/Northern Lights solution, for example, where CO2 must be shipped from the capture site, transferred to tanks for intermediate storage, and then injected via pipelines running to the storage reservoir.
A Nemo vessel will load CO2 from a capture site or collection point for direct transfer offshore to connect with injection wells for permanent storage in the reservoir. The ship will then return for another cargo. It can be delivered for different offshore reservoirs, depending on water depth and other infrastructure, and has a big international potential.
Considerable cost reduction
The CCS market is expected to be substantial, with the EU now promoting it as part of the solution to meeting its emission goals. That makes it attractive to many industries which must otherwise invest in expensive emission-reduction measures. Various estimates all show big future demand for CCS over the next 30 years.
Establishing a value chain for CCS which is competitive with the price of CO2 allowances is the challenge. Nemo's solution will make a big contribution to reducing costs here, and thereby making this approach a profitable climate measure.
| | |
| --- | --- |
| Nemo Maritime | |
| Established | 2020 |
| Core/project teams | 4/15 |
| Turnover in 2022 (or latest available figures) | About NOK 10 million |
| Company switchboard | +47 901 71 876 |
| Company e-mail address | tole@apcas.no |
| Company website | www.nemomaritime.com |
| Contact | Ole J Østvedt |
| Contact's e-mail | olejost@apcas.no |
| Contact's mobile number | +47 952 28 587 |